Employment Practices and Occupational Health and Safety
The Company conducts no discrimination in any way to all employees. All employees have the same opportunities in accordance with the prevailing regulations regardless of their gender, ethnicity, religion and race.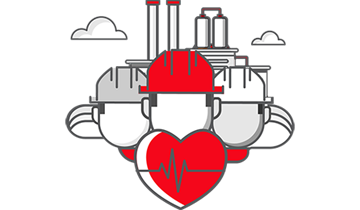 Facilities and Occupational Safety
Occupational health and safety (OHS) is a principle firmly held by the Company. For that purpose, the Company has a Safety Officer with AK3 General certificate (Occupational Health and Safety Management System), who is tasked to ensure that the OHS inspection is carried out any time, hydrant channel checking is on schedule, fire alarm inspection is carried out routinely as scheduled, and many more. The Company also continues to carry out routine maintenance on all facilities and work equipment used. The Company has also possessed licenses for the operation of the tools used such as boilers, pressure vessels, lifting equipment and transport equipment as well as other equipment.
Employee Turnover Rate
Employee turnover rate during 2017 was approximately around 5% (five percent).
Work Accident Rate
Work accident rate in 2017 was 0.02% of the total employees on December 31, 2017.
Education and/or training
Enhancement of Human Resources quality has been continuously conducted by the Company's Human Resources Division; one of which by fostering the "Learning Culture"spirit in the Company.
Along with Management's attention and commitment to Human Resources development, HR method with the "Talent Management" concept continues to be developed, in order for the Company to respond to challenges of business world acceleration with the availability of adequate human resources.
At present, one more progress that has been achieved is "Human Resource Information System" that enables proper connection of personnel and recruitment procedures, so that the competency-based "people development" , including the arrangement of "grading structure" can be maximized
Remuneration
In terms of remuneration, the Company has always complied with government regulations, the Company never gives wages below the Provincial Minimum Wage set by the Government.
Mechanism of Labour Complaints
Good industrial relations between the Company and employees cannot be separated from the role of the Company's Trade Union which serves as the official organization representing the interests of employees.
In the event of issues related to labor practice, the complaint mechanism is based on the Collective Labor Agreement (CLA) agreed by the Company and Trade Union and cosigned by Head of Manpower and Transmigration Department.