Environmental Responsibility
We are constantly improving efficiency in the use of materials and energy required to reduce the use of materials and energy that can not be recycled.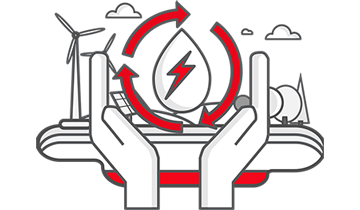 As a food manufacturer, the Company nearly has no waste that can pollute the environment. We manage liquid waste generated from production process with our Waste Water Treatment Plan that treat wastewater through a biological treatment process to break down organic compounds by bacteria/decomposer. After going through the deposition process at the end of each stage of the process, the waste will be firstly deposited on the clarifier tanks so that the waste water flowing out of the Company's plants can meet the quality standards set by the Environmental Impact Management Agency (Bapedal).
Nevertheless, we remain realizing our compliance with regulation by having the UKL-UPL (Environmental Management Program and Environmental Monitoring Program). UKL-UPL is an environmental management document for business plan and or activity not requiring AMDAL (Environmental Impact Assessment) permit. We also have a Letter of Consent from our Environmental Management Plan (RKL)from the Minister of Industry, Liquid Waste Disposal Permits (IPAL), and many more.